Election over but the effects will linger in Metro Vancouver
The federal election is over and those who think nothing has changed should prepare themselves for some of the most intrusive legislation ever into the private-sector housing market. It has never been more apparent that this much housing policy is a reaction to headlines and social media. Common sense is trumped by the need to appear to be doing something, anything, to get elected.
For instance, foreign home buyers – already subject in B.C. the highest taxes in the world – are now virtually a non-entity in the Metro Vancouver real estate market, in both the commercial and residential sectors. Yet, at the same time that the federal government wants to increase immigration to 400,000 persons per year, it plans to ban foreign purchases of Canadian homes for two years. This means that someone planning to move to Canada cannot buy and prepare a home for their family's arrival until they achieve citizenship without paying perhaps a hefty tax. A family will also be penalized if they purchase an apartment for their foreign student in Vancouver. Please come but don't touch.
Then there is the plan to reduce the cost of Canada Mortgage and Housing Corp. insurance by 25 per cent while increasing the ceiling on eligible mortgages to $1.25 million, from $1 million.
Hello? This is clearly an inflationary measure, convincing more entry level buyers to purchase while doing nothing to increase affordability.
There is also the planned anti-flipping tax, which is politically palatable but a disincentive to increasing the much-needed supply of affordable strata homes or rentals. This is because land assembly of existing houses or strata windups is often the first step in multi-family development. These properties are, ideally, assembled and then sold within a year to speed the development process. Another layer of tax on homes bought and sold within 12 months will discourage development while adding higher costs to the resulting new strata or rental units.
Port Moody is among the markets that could be hurt. A large new residential development approved for the city's Coronation Park area – updated in September to now include 2,650 strata units and a rent-to-own program– spurred single-family land assemblies in the area for higher-density homes, such as badly-needed townhouses. In September, only 19 townhouses were added to Port Moody listings, and 14 of them sold. A mere 28 new townhouse units have started construction in Port Moody for all of this year.
Port Moody has a dramatic shortage, but there is a pressing need for middle-market housing right across Greater Vancouver. In September the total active listings for townhouses was less than 1,100 units, down nearly 50 per cent from the same period a year ago. In fact, the total number of residential listings in Greater Vancouver hasn't been this low in September going back to 1993 and beyond.
So what to do? As always, keep calm and carry on. Responsible people want and need to buy a home for their family's comfort and financial security and will continue to do so, regardless of the barriers to their destination.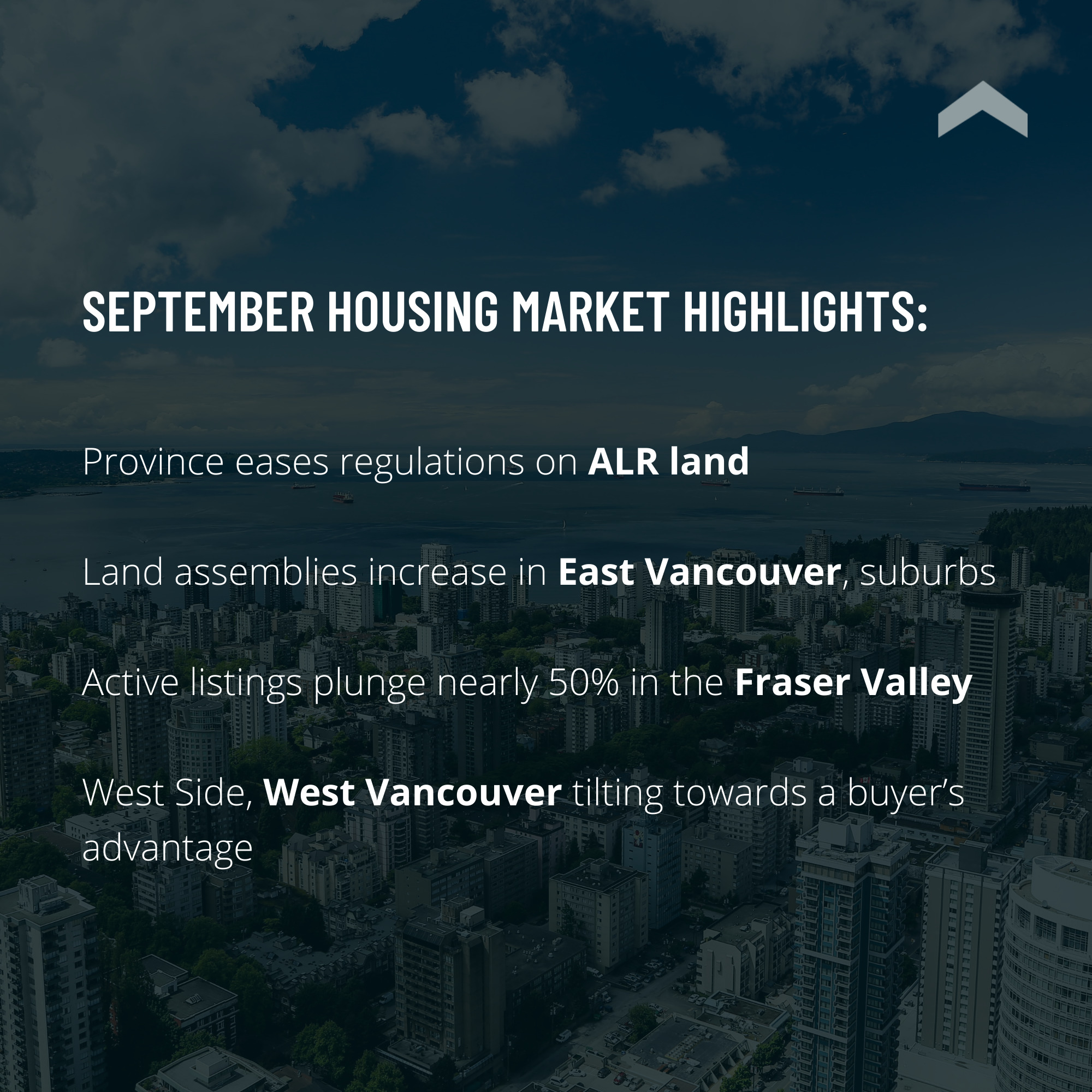 Greater Vancouver market summary: Total residential sales in Greater Vancouver in September were 3,200, down from 3,714 in September of 2020, but slightly higher than the 3,178 sold in August 2021. While not a spectacular month for sales, likely a reflection of the lower selection, September sales were 20% above the 10-year average for this month while the number of new listings was 1% below the 10-year average.
Year over year, condo apartment sales are tracking above September 2020, while detached and townhouse sales are slowing. Compared to September 2020, the number of condo apartment sales this year were up 1%, while townhouse transactions were down 20% and detached homes 27% lower.
It is no coincidence that the sector with the highest supply – condo apartments – is also seeing the highest sales increase. The slowdown in the townhouse and detached-housing markets in September can be traced to a lack of inventory in both sectors.
Overall average residential prices are lower now than at peak prices in April across Greater Vancouver, but there are variations among markets. The average home price in September was $1,174,305, compared to $1,211,233 in April of this year, when sales had hit more than 5,000 transactions for the second straight month.
Fraser Valley market summary: Sales in the Fraser Valley were down 10.6% in September from August, but the total of 1,866 transactions was still the second-highest September in the Fraser Valley Real Estate Board's 100-year history. September, however, ended with a total active inventory of 3,812 homes, down 48.3% compared to September 2020, which drove prices higher across the board. Average prices for single-family detached houses were up 31% from a year earlier and 1.8% higher than in August, to $1,491,989. Townhouse average prices were $773,728, up nearly 5% from August and 27.6% above September 2020. The Valley-wide condo price was $493,188, up 15.6% from September 2020 but virtually unchanged (up 0.7%) from August of 2021.
Vancouver Westside: Despite a 4% dip in total sales from August, September's 567 total transactions were up 6% from a year earlier and the West Side saw a welcome influx of new listings. Total new listings were up 36% from a month earlier and active listings reached 2,554 properties, the vast majority of them condo apartments. The headline news for the trend-setting Westside, however, is that the total supply is now at 5 months, which is tilting it from a seller's market to a balanced, even hinting at a buyer's market for the first time in years.
The detached housing market, however, received only 220 new listings in September – up by just 40 from a month earlier – and the average house price settled at $3,573,268, down about $90,000 from both August of this year and September 2021. The sales to listing ratio was 37%, the lowest level since May and the lowest September ratio since 2019. If the active listings and sales of detached houses continue at the same pace, there is a 9-month supply on the market, which signals a buyer's market. For those aspiring to a detached house on the Westside, this may be the time to take action.
Townhouse prices, at an average of $1,662,908, however, were $270,000 higher than in September 2020 and up $73,000 from August of this year. There were 66 townhouse sales in September from total new listings of 116, creating a sales-to-listing ratio of 57%, compared to 86% a month earlier. The lack of inventory is keeping prices high, resulting in some frustrated buyers retreating from the market.
Westside condominium apartment sales present a different story. With 892 new listings added in September and a total of 1,579 condos now on the market, the average price dipped slightly from August, down about $5,000 to $957,893 for the 416 sales in September. Condo sales were down slightly from August, and September's sales-to-listing ratio of 47% was well off the monthly pace this year and indicative of the cooling market we are seeing this autumn across most of Greater Vancouver. Perhaps that's why CMHC's risk report put Vancouver at low compared to high in Toronto, Montreal, Ottawa, Halifax and Moncton.
Vancouver East: Regular readers will know my belief that Vancouver East is the current and housing market of the future in Greater Vancouver. September emphasized that confidence. Sales in the month surged 25% from August and new listings were up 47%. The result was a great selection and a sales-to-listing ratio of 58%. There is a 3-month supply of inventory in East Vancouver as this strong seller's market continues.
Vancouver East detached houses, I believe, present good value. The average detached house price in September was $1,846,657. This is lower than the North Shore, Richmond and most of Burnaby, and a startling $1.6 million less than in neighbouring West Side. But none of these markets have the new St. Paul's hospital underway, the rapidly-growing tech sector or the coming SkyTrain twin-subway extension seen in East Vancouver. Take a drive through Mount Pleasant or visit the 450-acre False Creek Flats north of Great Northern Way to see where Vancouver's future is heading. East Vancouver detached house owners should be aware that land assemblies will become a major factor in this market over the next few years, if not months.
East Vancouver had 187 townhouses for sale in September, the highest inventory seen in most Greater Vancouver markets. September townhouse sales, at 75, were up 92% from August and the average sale price of $1,258,332 was the highest level this year, and $120,000 above September 2020. The sales-to-new-listing ratio held steady at 53%, close to the average since May of this year.
Condo apartment sales in East Vancouver, at 115 in September, were up from 97 in August but lower than the monthly average this year. With 224 new listings, the sales ratio was 51%, the lowest since January. Despite this, the average condo price reached $808,000, up $34,000 from August and $100,000 higher than a year earlier.
North Vancouver: Total housing sales were up 9% in September from a month earlier, to 230 homes, which was 30% higher than in September 2020. Active listings were up from August, with a 70% surge in new listings to a total of 507 homes for sale at the end of September. With a mere 2-month supply, North Vancouver is very much a seller's market.
Detached houses sales, at 70, were the highest in three months and the average detached house price in September was $2,227,213,the highest level this year and up a startling $435,000 from September 2020. The sales ratio for detached houses was 53% with 144 new listings added to the market in the month.
City-centre detached owners should watch for land assembly action that has started near the massive civic redevelopment planned for the Harry Jerome community centre in Central Lonsdale. The new complex won't complete until 2025. The city does not allow higher-density zoning in the area today, but some developers are assembling lots in anticipation of future potential such as townhouse zoning.
North Vancouver townhouse listings added just 46 units to the market in September and new listings have not reached 50 townhouses a month since May. Sales in September, at 35, resulted in a 76% sales ratio. The average North Vancouver townhouse sold for $1,332,543, up $195,000 from September 2020, reflecting the high demand and low inventory.
Condominium apartment sales dominated the September market, with 115 sales, but the sales-to-new-listing ratio dropped to 51%, the lowest level this year. The average condo price is now $808,207, up more than $100,000 from a year ago.
West Vancouver: One of the most prestigious markets in Canada is moving towards a buyer's market with an 8-month supply of homes on the market, but buyers still pay premium prices. The average sale price of the 41 detached houses sold in September was $3,536,476. This price is up 13% from a year ago, but below the monthly average this year. With a total of 440 detached houses for sale, there is healthy selection and buyers can take advantage. There were only 11 new listings for townhouses in September and 10 of them sold at a benchmark price of $1,292,000. There were 20 condo apartment sales, unchanged from August, at a benchmark of $1,162,000, up 5.5% from a month earlier.
Richmond: Richmond housing sales and listings were down in September, rather dramatically, with sales dropping 32% compared to a year earlier and total active listings down nearly 50% year-over-year to just 320 properties, yet strata prices are soaring. September townhouse prices broke the $1 million average-price barrier for the first time in Richmond as 90% of the 107 new listings sold. Richmond has only a 2-month supply of townhouses in a white-hot seller's market.
Condo sales led Richmond's September action, with 230 transactions and 584 active listings, with average condo prices up nearly $100,00 from a month earlier at $641,218.
Detached houses posted 106 sales from 184 new listings in September, and the average price was down slightly from August, at $1,935,761.
There is a buzz in Richmond due the easing of rules regarding the Agriculture Land Reserve (ALR). The province recently ruled that smaller farms (100 acres or less) can add a secondary residence, if approved by the local municipality. Richmond has many small ALR parcels, many less than an acre, and the ruling may increase their attraction to buyers. The changes, which come in December 31, 2021, represent a slight opening in restrictions that have limited residential use on about 150,000 acres of ALR land in Metro Vancouver for 45 years.
Ladner: Forget for a moment that a gigantic 8-lane replacement for the Massey Tunnel is coming to its doorstep or that the City of Ladner launched a program in September that is unapologetic about aiming to attract higher-density residential development. Instead, think of living in an historic riverside community with startling real estate potential. A lot of people have: 84% of the new listings in Ladner sold in September – a sales ratio that has held steady for months – and total sales were up 9% from August, to 38 transactions. Detached houses sold in September at a benchmark in the $1.3 million range, but Ladner has been posting among the highest month-over-month price increases over the past six months. Something is stirring in sunny Ladner.
Tsawwassen: Ladner's neighbouring Tsawwassen saw total sales dip 23% in September from a month earlier and its sales-to-new-listing ratio is also more subdued 78%, down from 112% in August. Active listings have plunged, with 133 this September compared to 308 at the same time last year. Detached-house prices are benchmarked at $1,409,800, 7% from six months ago but unchanged (up 0.3%) from August 2021. Tsawwassen townhouses are in high demand, even at the current benchmark price of $856,000.
Burnaby East: Total housing sales reached 38 units, not much changed from a month or a year earlier. Total active listings also held steady, though low, at 83 per month for two months straight. Townhouses supplied the drama in September as the sales-to-new-listing ratio hit 131% due to a mere 13 new listings compared to 17 sales. The average townhouse price shot up to record high of $1,006,000 as a result. The overall sales-to-new-listing ratio for all homes is 78%, as the housing shortage becomes apparent in this seller's market.
Burnaby North: This market has seen a lot of new housing starts over the past three years, but most have been condos, not townhouses, which remain in high demand. In September, 31of the 36 new listings for townhouses sold and a lack of inventory is all that is keeping sales in check. Multiple offers are still common here, as the average townhouse price jumped $50,000 in a single month to $956,712 in September. The detached-housing action was more subdued with a 62% sales-to-new-listing ratio, and the 32 detached sales seeing an average price of $1,782,633, the lowest monthly level since January 2021. The condo apartment market posted 125 sales, highest in four months, at an average price of $681,673, with a sales-success ratio of 66%.
Burnaby South: Home prices in Burnaby South have barely budged in three months and sales, while historically high, where down 8% in September from August. The composite benchmark home prices is just over $1 million as it has been since the early summer. The overall housing inventory is steady at a 3-month's supply and the sales-to-listing ratio is also solid at 64 per cent in September. This is a seller's market, and a stable one.
New Westminster: The Royal City was one of the hottest markets earlier this year, but the pace slowed in September, with overall housing sales down 10% in as compared to August and new listings up 42% in the same period, resulting in a 52% sales-to-listing ratio, which is about as balanced as it gets. In August, the same ratio was 80%. An opportunity could be opening in the New Westminster detached housing market, with the sales ratio down to 35% in September, the lowest since mid-2020, and the average price tracking down to $1,333,614. There is a six-month supply of detached houses on the market – 81 houses – which is trending towards a buyer's advantage.
Coquitlam: Coquitlam saw total sales dip 13% in September, to 247, compared to a month earlier and were 19% lower than in the same month last year, while the supply of homes is increasing. There are 577 total active listings, up from 551 in August, though they are down about 40% from a year ago. The condo sector posted a 76% sales-to-new-listing ratio to lead the market, with 133 sales at an average price of $634,777, the highest level of any month this year. Townhouse sales dipped to 37 units, down from a three-month average of 48, but 74% of the new listings sold at an average price of $955,854. September saw 74 detached-house sales, the lowest level this year, and average price, at $1,599,752, has been fairly constant since the start of the year.
Port Moody: Port Moody has been flirting with a housing boom for three years, with plenty of plans for new development but a lack of actual construction. That could change over the next few months and the supply would be welcomed. There were only 158 active listings in September and that included only 14 new listings for townhomes and just 50 condo apartments available for sale. The sale-to-listing ratio is in the 75% range for both strata sectors. The planned new developments, including the 2,500 homes planned for the Coronation Park area, has increased interest in single-family lot assemblies. The average detached-house price in September was $1,736,346 and 80% of the 30 new listings sold.
Port Coquitlam: Good, stable Port Coquitlam saw a total of 97 home transactions in September, unchanged from August 2021 and up 15% from the same month a year ago. New listings increased 25% from a month earlier and the sales-to-listing ratio was a steady 64%, meaning a seller's market. More detached house listings are needed, because all 34 new listings in September sold. Unlike many markets, more detached houses sell in Port Coquitlam each month than townhouses or condos. Note to first-time buyers, though: the average price for a Port Coquitlam condo is now $495,000, among the lowest in Greater Vancouver.
Pitt Meadows: Pitt Meadows is a small housing market and it is among the tightest for supply in Metro Vancouver. The total inventory of homes for sale is down to a 1-month supply as sales leaped 71% in September from a month earlier. There are only 47 active listings, compared to 100 at this time last year. Detached house prices are 6% higher than six months ago, at an average of $1,212,000, and average townhouse prices have risen 12.2% in the same period to $759,000. The overall sales-to-listing ratio is a stunning 93%. If you want to buy in Pitt Meadows, better hurry before all the listings have disappeared.
Maple Ridge: Maple Ridge has been attracting many buyers from Vancouver and the inner suburbs this year due to its lower prices and increasingly sophisticated new strata housing. In September, buyers were purchasing detached houses for a benchmark of $1.2 million and condo apartments for $441,000, the lowest prices in any Metro market north of the Fraser River, save for neighbouring Pitt Meadows. There is only a 2-month supply of total residential listings and sales to listings ratio in September was 84%, an indication that Maple Ridge could see a continual elevation in home prices.
Surrey: Anyone fortunate enough to take a tour from South Surrey's Crescent Beach to Central Surrey's high-rise downtown would have to admit this city on pace to surpass Vancouver as the biggest metropolis in B.C. About 1,000 new business open every year in Surrey and 1,000 people move in every month. In September, 308 detached houses sold in Surrey at an average price of $1,606,000, a price up 28.6% from a year earlier and 2.7% higher than in August 2021. But Surrey is suffering from a lack of listings, with detached listings down as much as 50% and active listings for townhouses down 64% in north Surrey and 40% in South Surrey-White Rock from a year ago. Even condo listings have fallen up to 40% in key markets like Central Surrey and North Surrey, though condo prices remain relatively affordable across Surrey at an average of $485,000 in September. But if even forward-looking Surrey is facing a shortage of housing, you know something must be done to increase the supply across Metro Vancouver, or we will all be facing much higher prices in the near future.
Download September Sales and Listings Statistics Houses Townhouses Condos
Download September Sales and Listings Statistics All Regional